The Feathered Serpent 2010


History, mystery, cutting edge science and suspense unfold as a beautiful scientist and a warrior from ancient times battle a preternatural beast that is intent upon bringing about the 2012 apocalyptic vision.

The fabled Feathered Serpent, harbinger of the Apocalypse, has begun his relentless ascent out of the bowels of the earth.

Beautiful astrobiologist Caden Montez is on his trail. She is in Teotihuacán, the ancient ruins she believes is the best site on earth to find evidence of visitation by aliens in ancient times. While exploring the "City of the Gods"—a place so eerie it terrified even the ferocious Aztecs—she discovers that the Serpent has broken free of its 2000 year entombment.
Ancient Maya priests prophesied that when the Feathered Serpent returned, he would open the gates to the End Time. Now the Maya's Fourth Horseman of the Apocalypse is on the move, and humanity's survival hangs in the balance.

Tah-Heen, a champion in the gladiatorial ball courts where the "game of life and death" was played – and the loser sacrificed – battled the beast 2000 years ago in ancient Mexico.

A stranger in a strange land when a secret program brings him across the gulf of time, he teams with Caden to battle the diabolical foe that destroyed an entire civilization in ancient times – and has come back with a vengeance.

"A masterpiece of science fiction horror. It combines historical fact with theories of alien visitations and time travel and the 2012 phenomenon. . . a must read. . . the reader will have a difficult time putting this one down."
-- SFRevu

"Fascinating peek at ancient Mesoamerican culture."
-- Booklist
"Fans of the Mayan End Times omen will relish Junius Podrug's interpretation of the countdown to the end time of the fifth age of history."
-- Alternative Worlds

"A riveting, beautifully researched story about the mysteries of 2012, and the eerie journey mankind is taking through space and time."
-- Whitley Strieber, New York Times bestselling author of 2012:The War for Souls

"Fascinating, hypnotic, frightening . . . this swift-reading novel displays more imagination and vivid imagery than a studio full of special-effects experts. High performance, high standards, and a high old time for the fans of Junius Podrug."
--Ralph Peters, New York Times bestselling author of Looking For Trouble
"If the coming apocalypse has got you worried, you'd better avoid Junius Podrug, the Prophet of Armageddon. Podrug makes St. John sound hopelessly optimistic."
--Stephen Coonts, New York Times bestselling author of The Assassin

"The Mayan God-King is tunneling out of his underground tomb. Madder than a hornet, he's coming after . . . us!"
--David Hagberg, New York Times bestselling author of The Expediter

"A helluva novel. Guaranteed to rock your socks and shake your soul, Feathered Serpent 2012 is the ultimate 2012 thriller!"
--William Birnes, star of TV's hit series, The UFO Hunters, and the New York Times bestselling co-author of George Noory's Worker in the Light

"Feathered Serpent 2012 is a page-turner filled with fantastical events that seem as if they happened yesterday. Pick it up and be swept away."
--William Martin, New York Times bestselling author of The Lost Constitution

Podrug has "obviously done his research, making the Mayan legend as real as anyone is likely to." -- Critical Mass



Dark Passage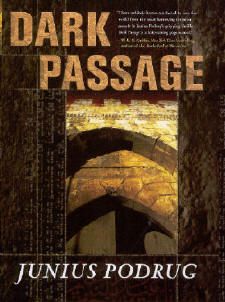 Suspense thriller set inthe modern and ancient world.

It began with a rain of frogs . . .

A strange phenomenon grips the world of today—and yesterday. A shepherd boy appears outside a scientific facility at Los Alamos, New Mexico, babbling in an ancient tongue. At the same time, two thousand years ago, mortal fear grips a queen whose murderous ambitions are boundless as she entertains her subjects with screams of the dying men in an arena.

In one moment, time is ripped apart . . .

Brutal jihad terrorists slip through the hole in time, on a mysterious and deadly quest to change the course of history. To stop them three innocent people, two men and a woman, are sent back on the most exciting mission in history—to unravel a mystery and stop a killing, back to when the people of Israel chaffed under the heel of Roman legions and a brutal queen used sex and murder as a scheme for empire.

"TOP PICK!" DARK PASSAGE is an exciting thriller keeping us on edge as we discover the ancient world through the eyes of the 21st century...a story of hope, fear, courage...unforgettable characters in an intense drama, and the ending is a shocker. Highly recommended!" Romantic Times Magazine

"Gripping adventure yarn...The historical details are fascinating..." Booklist

"Appealing characters and faithful attention to period..." Library Journal

"Sensuous...salacious..." Kirkus Reviews

"A timely novel of intrigue set against the turbulence of the Middle East and international terrorism." Cape Cod Times

"Imaginative and spellbinding, DARK PASSAGE is a ripping good read—with deep and unexpected undercurrents that pull the reader along to a haunting conclusion."
-- Ralph Peters, bestselling author of Traitor and the Devil's Garden

"A breathtaking two-millennium ride from France, the modern and ancient Holy Land, and the United States, toward Armageddon, with jihad terrorists as traveling companions. Few writers today have Junius Podrug's gifts to pull off such a skyrocket of a story as this one." -- Dale L. Walker, award winning author of Pacific Destiny

"I truly envy readers who are going to pick up Dark Passage and read it for the first time. You're in for a treat! I could hardly put the book down. From the opening pages I was hooked. I can count the really good tales I've enjoyed on my fingers (with a few digits left over), and Dark Passage is now one of them. The scenes are vivid and real, there is slam bang action on every page, and best of all Dark Passage tells a whiz bang story." -- David Hagberg, bestselling author of Joshua's Hammer

"Filled with intrigue and unrestrained passion, terror and courage, the book is impossible to put down. It hooks on the first scene and keeps you turning pages at a furious rate as it take you through exciting, unpredictable, and in many cases quite terrifying sequences from its hard-hitting opening to its explosive climax."
-- R. J. Pineiro, author of Firewall

"A self -centered actor, an engineer, and a woman of doubtful past are swept into an inexplicable time- warp. They have to go back to the time of Christ to save the world. Well researched and well-imagined, this book is exciting."
-- Barbara D'Amato award winning author of Authorized Personnel Only

"It made me cranky to have to put Dark Passage aside a couple of times before I finished. It's far above so-called thrillers that come my way. It has a good premise, excellent research, and genuine narrative skill." -- John Farris, bestselling author of The Fury and the Power
Presumed Guilty
Suspense thriller set during a cold winter in Moscow.
Lara Patrick, a young American attorney, has traveled to Moscow looking for clues to her mother's mysterious death over twenty years ago. She uncovers more questions than answers, and soon becomes a murder suspect herself. Charged with homicide, Lara gets caught up in the ruthless Russian legal system where there's no jury and she is "presumed guilty" from the moment she's arrested. The trial that takes place is like no other in American literature.

This novel is called Winterkill in some European countries where it was published.
"Absolutely spellbinding. This exciting legal thriller kept me engaged right to end."
The Mystery News
"Presumed Guilty is intricately plotted, reads like a whirlwind." The Arizona Daily Star
"Presumed Guilty is an excellent read, hard to put down. Podrug is another attorney turned storyteller who does it exceedingly well." Cape Coral Daily Breeze
"This novel is a compelling look inside the Russian justice system." Gerry Spence
"A wild, rocketing thriller." Harold Robbins

Frost of Heaven was awarded a "Rocky" as Best First Novel in the Rocky Mountain News Unreal World Awards
Suspense thriller set in exotic locales.
An investigative reporter sets out to unravel the mystery of father's disappearance three decades before and meets a woman as dangerous as she is beautiful. Together they share an exotic journey in search of a secret older than time.
"This absorbing debut thriller set in remote lands offers penetrating character studies along with colorful, nonstop action . . .Podrug deftly depicts his diverse locales, from modern London and contemporary, ageless Calcutta to Tibet and Mongolia, providing rare texture for his plot of violence and danger. PUBLISHERS WEEKLY
"Podrug is a talented writer with a knack for startling images and a real gift for capturing the seamy downside of cities . . . [he] has a fine reporter's eye . . . he's captivating and dour—in his descriptions of the Tibetan landscape or in a harrowing account of contemporary Calcutta." KIRKUS REVIEWS
"Old fashioned novel of romantic adventure in the trackless wastes of the Himalayas . . . a good Hitchcockian hero . . . plenty of action and intrigue . . . a lot of color, panoramic shots of locales ranging from Calcutta to Tibet . . . it's intended to entertain and that's what it does." LOTUS MAGAZINE
"Frost of Heaven is fast and entertaining . . . an accomplished first novel." ROCKY MTN. NEWS (DENVER)
"Frost of Heaven is a compelling thriller in which Peter tracks the beautiful Tashi across the world from London to Calcutta to Tibet to discover an icy, mountainous valley they are both linked to." CARDIFF WESTERN MAIL (BRITAIN)
"Frost of Heaven is a savage thriller involving a mysterious quest into the Himalayas . . . recalls Raiders of the Lost Ark or Rider Haggard's adventures." LIVERPOOL DAILY POST (BRITAIN)


Non-Fiction


Stop Being A Victim
Pulitzer Prize winning columnist Jack Anderson called this book a "survival guide for the new millennium."
The book explains why we get victimized and gives tips on how to avoid being a victim. Twenty-eight subjects are dealt with, including protecting your person, home and family, surviving at work, dealing with divorce, creditors, lawyers, buying a car, etc.